Year 2 (classes 7 & 8) - 2020/21
We were very lucky to begin our new topic for this term with a visit from Beamish Museum. He told us all about coal mining and what the miner's lives were like. He brought in a lot of artefacts for us to have a look at such as the pan shovels and pickaxes the miners would use to collect the coal as well as the hard hats, sandwich and water canisters, the safety lanterns and the hand held drills they would use to loosen the coal from the coalface. We had a lot of fun and it really brought coalmining to life for us.
Mental Health Week.
During this year's Mental Health Week we were discussing how important getting back to nature is and how being outside in the fresh air can really help our wellbeing. We discussed the benefits of being outside and how important it is to appreciate the beauty we have around us. We spent sometime in the school garden and we looked at our surroundings and the children showed us all of the things that they found beautiful in the garden which they then drew back in the classroom. It was very good for all our wellbeing.
Using our strategies for our 4 rules in maths!
During maths we have been looking at addition, subtraction, multiplication and division to answer fluency and problem solving and reasoning questions. It was hard but we were resilient and we are doing so well using our strategies now.
The children in year 2 have been learning all about Amelia Earhart the past few weeks. They were very interested in how she was the first woman to break the altitude record in 1922 and how she became the first woman to fly solo across the Atlantic Ocean in 1932. The children have written setting descriptions about what Amelia may have seen from her plane when they all pretended to be her and they also created human timelines detailing the major events in her life. They have had learned alot and would be very willing to share their new found knowledge if you ask them about her!
LONDON'S BURNING
This week the children have been building 17th century homes like the ones that were around in 1666. They made them especially for our Great Fire of London exhibition where we recreated the Great Fire of London and saw how fast the fire spread because the houses were made of flammable materials and they were built too close together. The children watched the exhibition from the safety of the hall through the windows and we also discussed about fire safety and how this was done for display purposes only and how dangerous fire can be. This really brought the Great Fire of London to life for the children.
Our Year 2 singing superstars!
Our music lessons have been so much fun this term, we have been learning songs about the Great Fire of London. As you can hear, we sound amazing!
Our topic this term has been The Great Fire of London and the children have been looking at what caused the fire and why it spread so quickly. In doing this we allowed the children to all become bakers just like Thomas Farriner and bake traditional 17th century cakes. They had a lot of fun doing this and they were really tasty too. The staff were very happy because they didn't just make enough for themselves they made enough to deliver them to the rest of the staff as the children wanted to share their impressive cooking skills with the rest of the school.
Andy Warhol Inspired pop-art
During our This Is Me topic we looked at the artist Andy Warhol and we were inspired by his colourful pop-art to make our own Warhol inspired portraits. We took photographs and lightened them and added our own colours to create our masterpieces.
Our Y2 Science Investigation
Our topic this term is animals and their habitats. During this topic we look at things that are alive, dead and never been alive. We became scientists observing our local habitat and in small groups collecting evidence of things that were living such as trees, bushes, plants and flowers. Things that were dead such as pine cones, leaves and twigs and things that had never been alive such as pavement, metal fence and the school building. We thoroughly enjoyed being scientists for the afternoon.
We love Reading in Year 2!
In Year 2 we do a lot of reading and we love to choose our own books from the reading area. We have met many new characters and been to lots of different places as we love to lose ourselves in a good book!
Our Judo Taster session!
We had the pleasure of learning some beginner judo moves. We thoroughly enjoyed our time with the coach and learned a lot! We had to work in small groups and in pairs which supported our group working skills while we were exercising. It was so much fun!
The Great Fire of London!
We have been learning all about the Great Fire of London. In English, we have been writing descriptive sentences and trying to develop our vocabulary choices in our independent writing. We have also been looking at what life was like back in London in 1666 and comparing it to life now and discussing how things are different including transport, homes, jobs and way of life. We have used the computers to do our own research. It has been very interesting and we can't wait to learn more about it!
Our trip to Washington Wetlands Centre
The Wetlands Centre certainly lived up to its name when we visited this term, despite the rain we all thoroughly enjoyed ourselves. We learned a lot about habitats and lots of different animals. We especially enjoyed seeing the otters and learning about what they need to survive. We loved the flamboyance of the flamingos we saw getting their feed. We had the opportunity to feed some of the birds from our hands and also to go pond dipping where we found some under water mini-beasts. We are going to write a recount of our experiences in our English lessons.
Tri-Golf session at Silksworth
This half-term we visited the Puma Centre at Silksworth where we had a great morning learning to play different golf games to improve our basic skills. We had a lot of fun working in our teams and the staff there praised us all on our impeccable behaviour and attitude. Congratulations to the top three teams, Miss Kirtley's team came in 3rd place, Miss Glendinning's team came 2nd and Mrs Milburn's team came in 1st place. It was a great morning!
Hunt for Microhabitats!
We have been learning all about different habitats in our Science lessons. We all became mini scientists and investigated different micro-habitats and what is living in them. We found a lot of creepy crawlies and did some writing about our discoveries.
Our World
We have had a lot of fun in our recent Geography lessons where we have learned about the seven continents of the world. We have also used an atlas to locate and name the four countries of the United Kingdom and their capital cities. As you can see we had a lot of fun being Geologists!
Living Things
In Year 2 we have started our new science topic, Living Things and their Habitats. We enjoyed our first science lesson this week where we learned about living and non-living things and how they are different. We sorted items into different groups and decided if they were living or non-living.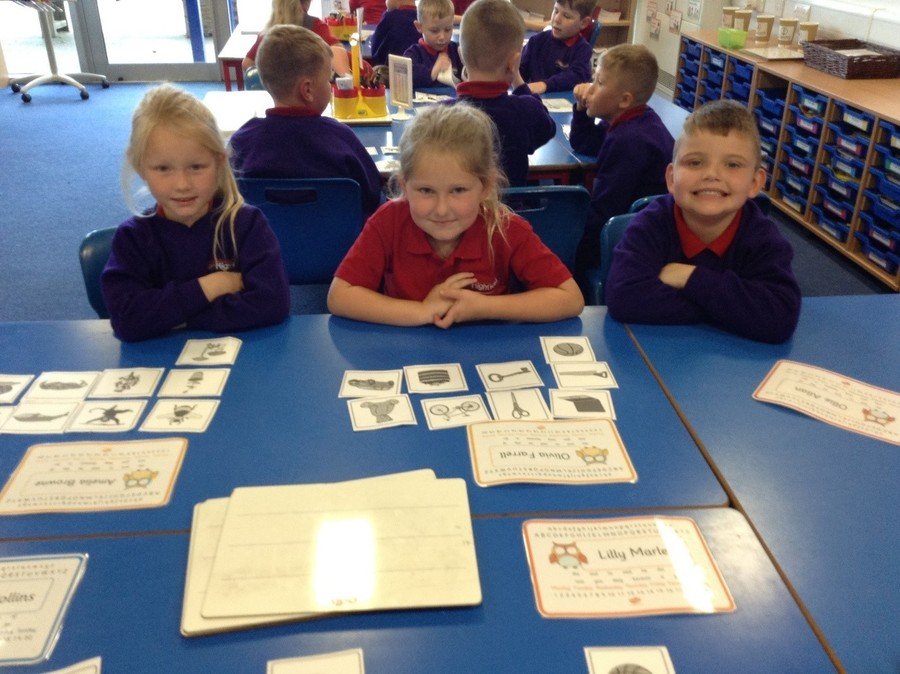 Maths
Since returning back after the summer holidays we have been working on our place value skills. We have been learning how tens and ones make up a 2-digit number. We have used whole-part models, bead strings, base 10 and place value charts to support our learning. Here are some examples of their amazing practical activities.