Reception (Classes 2, 3 & 4)
Summer 19
RECEPTION (CLASSES 2, 3 & 4)
Summer 19 GALLERY
Wonderland
In reception we have been busy making white rabbit ears, plates and cups for our picnic in Wonderland. We all enjoyed our morning in Wonderland where we painted roses red, just like in the story Alice in Wonderland. We also watched some of the year 6 children perform Alice in Wonderland for us, made some bunting and had a picnic with the Mad Hatter!
Sports day
We all had a fantastic time at our Sports Day last week! We all took part in an egg and spoon race, a bean bag relay, a sack race and a ball throw. We cheered for our friends in our teams and we all tired very hard. We even managed to get some of our grown-ups to join in with the day's events, some of them were very competitive!
Around the World
In reception this half term we are learning about the different continents of the world as part of our Around the World topic. We have learnt about Europe; Greece, France and the UK. We learnt all about the Eiffel Tower and we tried some Greek food; we tried Olives and Feta cheese. They were very nice.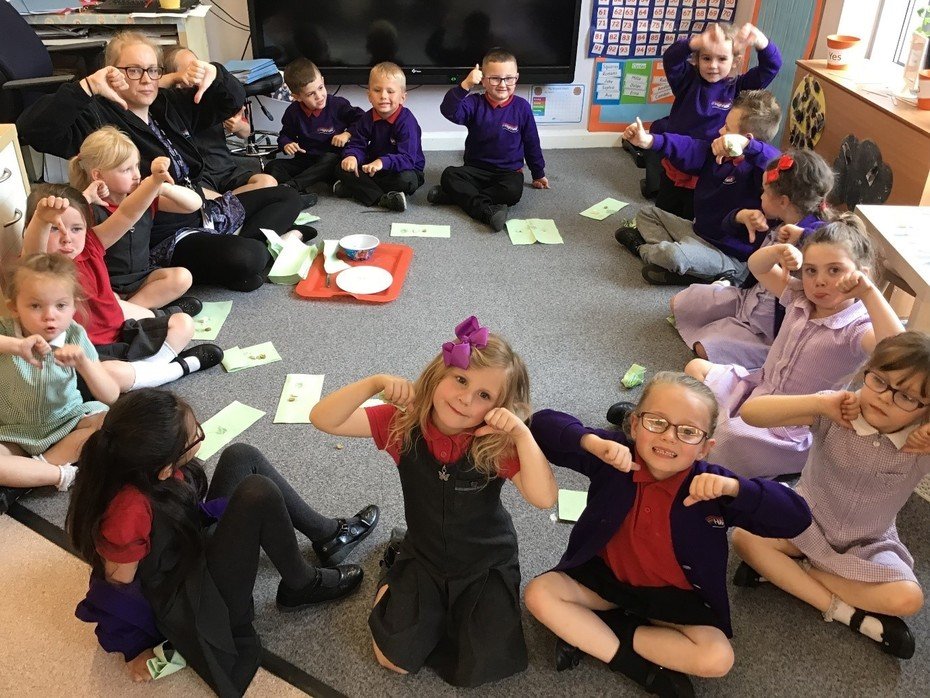 We have also learnt about Asia; we looked at China, the Philippines and India. We learnt all about India and we were very excited to look through Mrs Turner's photographs from her trip to India. We watched videos of Indian weddings and learnt how to dance Bollywood style. We tried some Indian Dhal and we even dressed up in some traditional Indian clothes!
Around the World
In Reception this week we have been on a trip to Penshaw Monument and Herrington Park as part of our all around the world topic. We have been learning about different countries from around the world and we have talked about landmarks they have and compared them to our own local landmarks. We had lots of fun at the park talking about the different sculptures we could see as we passed them. We even had a chance to feed the swans, geese and ducks; some of them had babies, they were very cute.
A Very Special Visitor!
In Reception, we have been learning about animals and their young. As a special treat Mrs Telfer brought her dog Winston in to see us. Mrs Telfer showed us Winston's special bag which had in a brush, some treats, some doggy wipes and his special water bottle. We learned how to look after a dog making sure their teeth are clean and by giving them lots of healthy food. We took turns to brush Winston's fur with his special brush. Some of us fed Winston some yummy treats! He was very well behaved and we all gave him lots of lovely strokes.
Reception (Classes 2, 3 & 4)
Spring 19 Gallery
Growing
This term in Reception we have been learning about growing and taking part in some scientific experiments.
We learned about all the different things a plant needs to grow; like sun and water. We decided we would conduct an experiment with cress to see how different things effect the way a plant grows. We planted four different cress plants and placed them in different areas and exposed them to different conditions. The ones with no water and no sunlight did not survive!
We all planted our own sunflowers and beanstalks. We had to make sure we watered them every day so that they would grow. We measured our plants every week and kept a record of how they were doing in our bean diaries. We are all excellent gardeners! Look how much they have grown!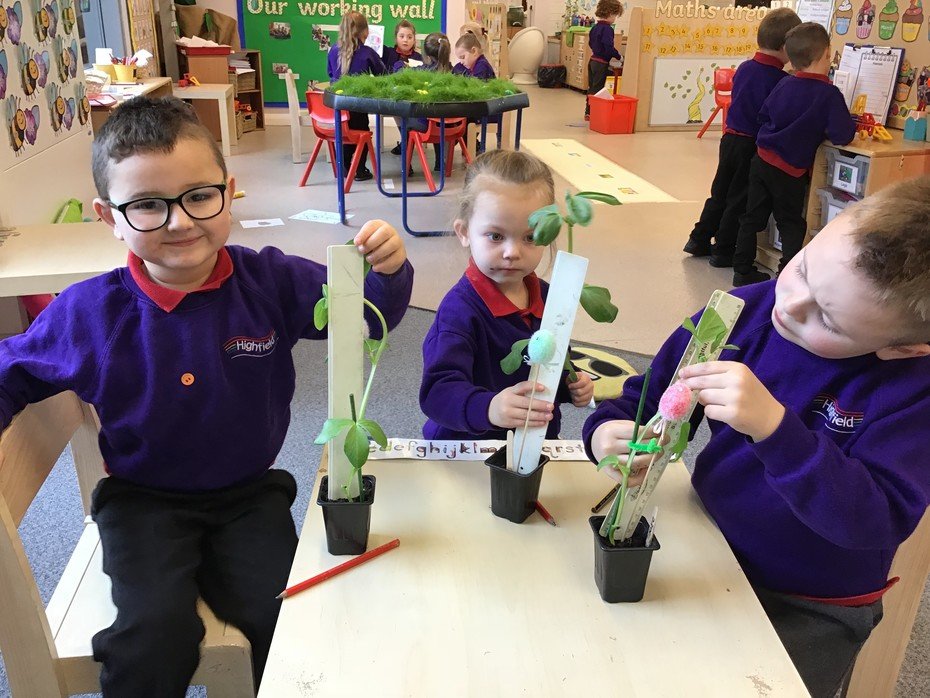 Life Cycles
We have been learning about the life cycle of a butterflies and frogs. We had some baby caterpillars which we watched grow and eventually they emerged into beautiful butterflies. After a few days to stretch their wings Mrs Dewart and Miss Emmerson released them into the wild.
We have also looked at the life cycle of a frog and currently have lots of baby tadpoles that we are hoping will turn into frogs soon!
Steve's Animal Ark
We have had a visit from Steve's Animal Ark!
Steve brought in lots of insects and animals for us to see. Some of us held stick insects from Peru. They felt fluffy and it had little red wings. He also had a spider, a scorpion, a praying mantis (which we were lucky enough to feed!) and a snake. We were all very brave and held the snake!
The Great Outdoors!
Mr Hibbert and Mr Hall have been very busy in our garden. They have created a new stage, an outside seating area and a water wall for us. We can't wait to perform our favourite stories and songs on the stage. Watch this space for more exciting changes to our outdoor area.