Reception Gallery & Work 21/22
We have been busy little elves this week getting ready Christmas in Reception. We don't want to give too much away but our Christmas card making involved painting our feet!
Another of our festive jobs was to make and decorate delicious biscuits for our Christmas craft sale. We followed Mrs Clause's special recipe and took it in turns to stir the mixture.
Practising our scissor control, we each cut out and decorated a sparkly Christmas stocking. They look beautiful hanging up in our classrooms.
We have been working hard to learn our Christmas songs and actions to go with them. We are proud of our performance and are sure you will be impressed when we share it with you. You may want to have a little tissue at the ready.
This week Cole class celebrated being the winners of our Reading Revolution competition. They enjoyed a party in our wonderful school library. A huge well done to all of the children in both reception classes who have been reading their little socks off at home this term.
Christmas has arrived in Reception this week. The children really enjoyed working together to assemble and decorate our class Christmas Trees. They discussed where best to put the baubles and worked brilliantly as a team to make sure that both trees looked beautiful.
We have also been learning all about the reason we celebrate Christmas (the birth of Jesus Christ) and why we have advent. We have learned all about what is special about the 1st December – it marks the start of Advent and made our own Christingle oranges to light. Christingles are oranges wrapped in red foil and decorated with sweets and cloves. We learnt that the candle represents Jesus, the red ribbon represents his blood, the sweets represent the four seasons and the orange is the world.
Anti-bullying week
This year as part of the 'One Kind word, anti-bullying week theme we have been learning all about kindness in Reception. We learnt how to show kindness to our friends and what to do if we think somebody is being bullied. We practised saying one kind thing to our friends each day.
Skyler said "my firnd said I love you."
Eve – "Evie said she liked my hair"
Isla K "Esme said I make her happy".
Shop keepers
Our role play area inside of our reception class is now a toy shop. This week we have really enjoyed taking on the roles of shop keeper, assistant and customers.
Delanie (Shopkeeper) and Isla B (customer) said…
"Hi
Hi Can I buy all of this stuff?
And would you like a bag with that?
Yes please it's for my little boy.
That will be £20
Ok here is my card, I'll put my card in now.
Ok let me get that for you, beep, beep, beep.
I have so much stuff.
This shop is about to close now so we can tidy up."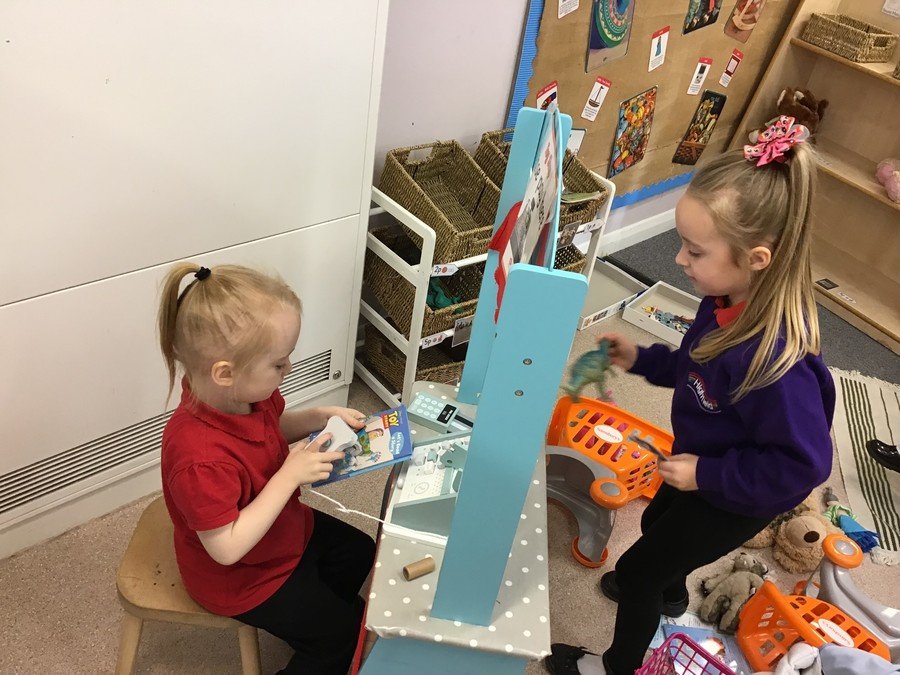 Toy makers
As part of our toys topic we have begun to make our own stuffed toys. We have already drawn out and labelled our designs and marked out onto our felt the front of our teddies. This week we will be cutting our felt shapes out and adding the decorative details ready for our teddies to be stitched next week. We cannot wait to see the finished product!
Phonics
We have been continuing to develop our amazing phonics skills in Reception… some of us have even moved onto the phase 3 sounds. Mrs Telfer and Mrs Musk are very impressed with how hard we have all been working to improve our segmenting and blending skills and were super proud when listening to us all read this week.
P.E – Slithering Snakes
In PE this half-term we are doing gymnastics. This week we were practising the skills needed to crawl over and under objects. We had so much fun playing lots of games with the parachute. We played cats and dogs, all change and here we go round the mulberry bush.
Floating and sinking
This week in Reception we have been learning all about floating and sinking. We have been exploring materials and discussing what we think makes something float or sink. We learned all about density – if something has lots of air particles inside it then it will float.
Phoebe said "I think it will float because it is not heavy"
Evie said "this block is big so it will sink"
Old Toys
This half term our topic in Reception is 'Toys'. This week we have been looking at some toys from the past, we used our PE slot in the hall to try out some of the toys we have learned about, we had; giant tower blocks, connect 4, spinning tops, cups and balls, jacks and noughts and crosses. We discussed how some of our parents and grandparents would have played with these toys when they were little like us and how they are very different from the toys we have now.
Parent's afternoons
We were all so excited to welcome our parents into our classrooms, we took on the role of tour guides and showed them all the lovely activities we get up to in Reception. We also loved showing our grown-ups the inside of our special learning journey books and showing off all our fabulous work.
Spooky Spectacular
We love Halloween in Reception and we were all getting very excited to go trick or treating. In the last week of the previous half term we had lots of Halloween themed activities in our classrooms. We investigated and explored the inside of a pumpkin…we even got to chop it up all by ourselves. We made spooky potions in witches cauldrons, rescued spiders from slime in our outdoor area, built our own skeletons in our fine motor area and read 'Room on the Broom'. We had so much fun!
Colourful crayons
We have been reading the story 'The Day the Crayons Quit' in our classes. We decided to use up some old and broken crayons to make our own brand new crayons. We discussed why it is good to recycle where you can to help our planet. We all designed our crayons and then we explored heating, melting and cooling in our science lessons, we are very impressed with the finished products!
All about autumn
In Reception over the last few weeks we have been learning all about autumn. We have looked at how the season is changing and observed how the leaves have started to change colours and fall off the tree. On our weekly visit to the secret garden we had an autumn treasure hunt and collected some leaves to try and make our own leaf rubbings with crayons. We also collected lots of autumn goodies over the half term holidays to inspect in our investigation area.
Hedgehogs
When we have been going to the secret garden we have noticed the leaves changing colour on the trees and begin to fall off. Some of us were very interested to know why this happens. Mrs Telfer and Mrs Musk said it was because we are in autumn. We have been learning lots about autumn including, hibernation. This week we learn that hedgehogs use the autumn to gather lots of food ready for winter and then they sleep for 4 months! We decided that we would love to help the hedgehogs and built two ready-made hibernation huts in our garden. We collected leaves and sticks to make sure they were well hidden. We cannot wait to see if the hedgehogs use them over the next few weeks.
At Highfield we are Rights Respecting; in Reception this half term we have been focussing on Article 7/8, every child has the right to a name. In music we have been using Charanga to sing the name song. We are all very proud of our names and what they mean to us.
Phoebe said…"My name is Phoebe and I love it!"
In our classroom we have our very own dark space. This week we discovered that you can make shadows in the light when we were on the big yard and the sun was shining behind us (some of us had very tall shadows). We discussed how we could make shadows in our dark space with the different torches. Mrs Telfer showed us how to make shadow animals with our hands!
Jake said..."Look! It's a big bird flapping its wings"
Skyler said…"if I'm far away the shadow is small"
As part of our colours of the rainbow topic we have been reading the story 'The Colour Monster' this week in class. We enjoyed a range of different activities including; colour sorting, acting out the story, painting and discussing our own feelings. In PE we experimented with different ways of moving to show how we were feeling, we skipped to show happiness which we represented with the colour yellow.
We experienced lots of different weather types on our walks into reception today; lots of us were very excited to tell Mrs Telfer and Mrs Musk that there was a big beautiful rainbow shining right over Highfield. The rainbow was the inspiration behind our music lesson this week. We learn to sing the colours of the rainbow song and included some Makaton actions. We sent it to our grown-ups on freeflow and they loved it!
We have also been continuing with our learning of phase 2 phonics and how now learnt half of the sounds! Mrs Telfer has been so impressed with our amazing segmenting and blending!
Phoebe said "I made pig and gas look p..i..g, pig. G..a…s, gas. I loved reading my phonics reading book with mam, I showed her how we do phonics like that, she wrote in my book too!"
We have been experimenting with colour mixing in our classes this week. We discussed what we thought would happen when we mixed colours and tried to make as many new colours as we can using only the primary colours… did you know there are only 3 primary colours: red, blue and yellow? We had so much fun and made lots of new colours, then we used them to make our very own Elmer the Elephant die dye t-shirt!
Charlie said "red and blue make purple"
Evie M said "WOW! It looks just like Elmer, lots of colours!"
We have had another very busy couple of weeks in Reception. Our topic this half term is 'Colours of the Rainbow'. Last week we enjoyed an afternoon in our secret garden making our own nature themed magical wands, so we could be just like the wizard and the Fairy Godmother in the story we were reading 'The Princess and the Wizard'. We all loved making up our own spells … we even turned poor Mrs Musk into a frog!
Marnie said "Bippity…. Boppity… hoppity… frog!
Welcome to Reception
We have all really loved our first full week in reception. We have spent lots of time getting to know our new teacher, friends, classroom routines and rules. We have all been to the secret garden, where we explored in the maze and hunted for mini-beasts. We enjoyed a story read by Mrs Musk in our school library, we even had the chance to get our own books from the shelves and read them with our friends. We have been to the PE hall where we moved around, pretending to be like different animals. This week we have also started phonics lessons and have already learnt the first four sounds; s, a, t, p. We have had so much fun and are very excited for the year ahead.