NURSERY (CLASS 1)
Balancing!
We love our PE sessions and have enjoyed moving in different ways around the hall. We have been practising balancing and it is tricky! We have balanced beanbags on our heads avoiding obstacles as we go.
Bee-Bots
We have been playing with the Bee Bots in Nursery. We have been learning how to make them move in different directions. We were very careful to make sure they didn't crash by counting how many steps they needed to take.
Christmas
The children have been getting the classroom ready for Christmas. We made paper chains to hang on displays. The children have decorated a white soft play ball bauble for the tree using stickers to help with pencil grip and future writing. The children have chosen a reindeer or tree Christmas card which has involved painting their feet.
Nativity
The children enjoyed singing songs and some children dressed up for parts in "The Sleepy Shepherd Nativity".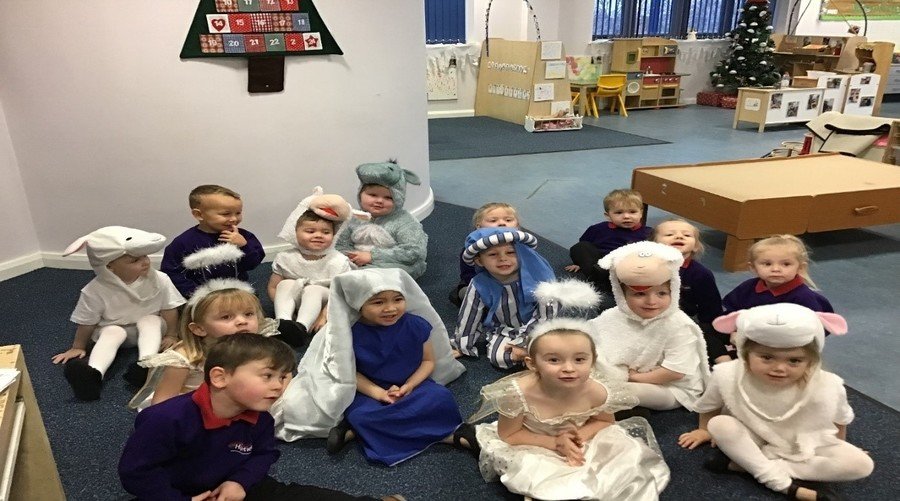 3D Shapes
This term we have been learning about 3D shapes. We built models and ate different 3D shaped food – cheesy balls, cube cake and ice-cream cones. They were all delicious!
World Children's Day
To celebrate World Children's Day, we used finger paints to decorate some bunting which we hung up as part of our celebration in school. We did this as we came into Nursery so we could talk to our parents about the different rights we have been learning about.
Changes
We have been explorers this term in Nursery and looking at how materials and objects can change. We enjoyed finding out how chocolate and water changed when they are put into the freezer or microwave. We talked about how the freezer being cold turned the "runny" water to "hard" ice and the microwave turned the "hard chocolate" into "yummy runny chocolate."
Autumn Stay and Play
This term our theme is "Celebrations." We invited our parents in to 'stay and play'. The parents watched our "Dough Disco" focus session then we made owls from paper plates and decorated poppies with different textured materials.
Fire Station
The children enjoyed making a fire engine with the blocks. They put fires out in the classroom and sang along to the "Five Little Firefighters" song on the interactive whiteboard.
Five little firefighters standing in a row,
One, two, three, four, five they go,
Up in the engine with a shout,
Quicker than a wink, the fire is out.
Same for four, three and two firefighters.
One little firefighter standing on his own,
One, mmm, mmm, mmm he goes,
Up in the engine with a shout,
Quicker than a wink, the fire is out.
Anti-Bullying Week
The children enjoyed listening to the story "Cinderella" to talk about being kind. We talked about school rules of being respectful, responsible and safe by having kind hands and words. The children coloured in hands which were then made into a class display.
The Rights of Children
We have been learning about Article 2 – All children have rights and that no child should be treated unfairly
The children had a visit from "Freddy" who was sad. He had been to another Nursery and the children hurt him and called him names because he wore glasses. The children said that it was not kind and we talked about how they could make him happy. The children said that they needed to "give him a cuddle, share the toys and play with him. Not call him names or hurt him." The children took Freddie to play in the classroom.
The children also enjoyed the story "The Ugly Duckling," talking about the animals not being kind and liking the end of the story where the duckling actually turns into a beautiful swan.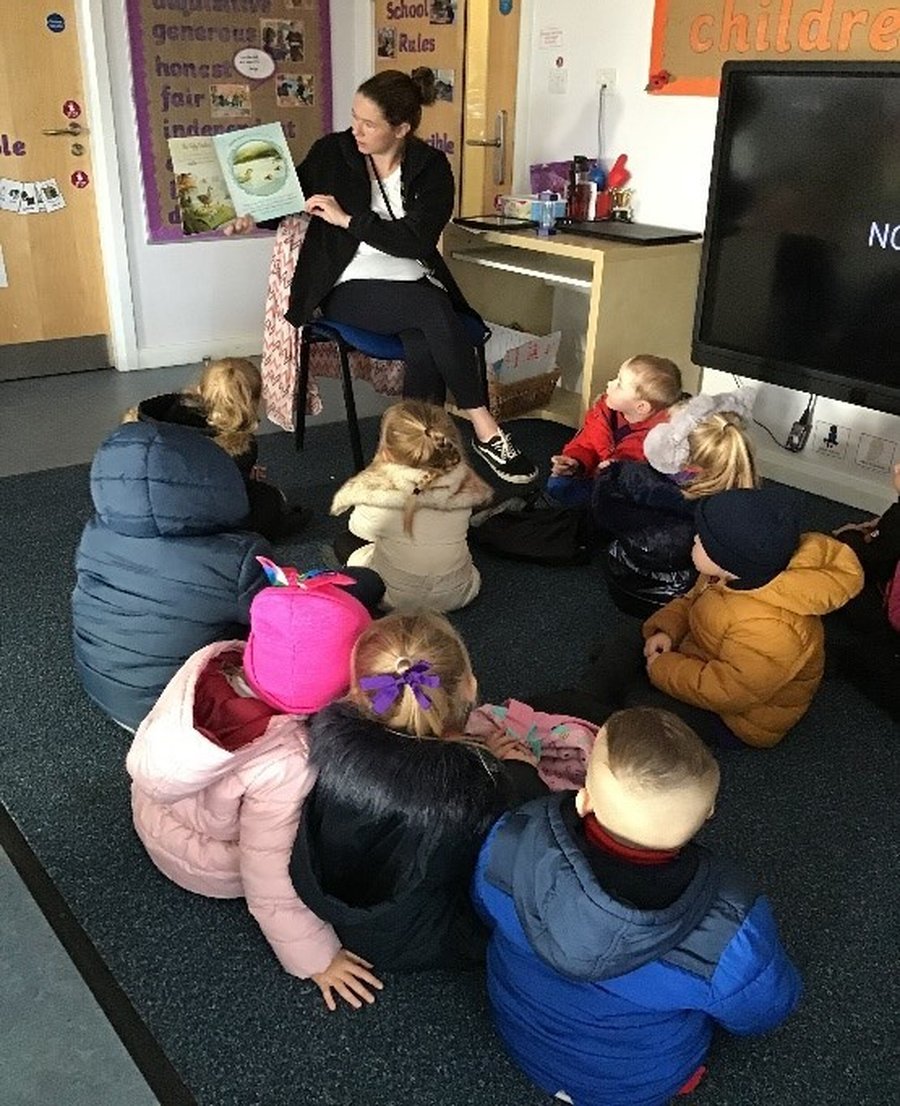 Music
We have been playing lots of listening games in Music sessions and identifying different sounds, such as sounds in the home and the noises animals make. We have been playing musical instruments to make them quiet, loud, slow and fast.
Funky Fingers and Dough Disco
We have had fun with Funky Fingers and Dough Disco this half term. We have been doing exercises like stretching our fingers, making fist shapes and pretending we have magic fingers to write with.
Eco Warriors in Nursery
Every week we are choosing a different Eco Warrior in Nursery who will do our bit to help the world. They are going to make sure lights are turned off when not needed to save electricity and that water is not wasted from taps being left to run in class. We have also been learning about recycling paper. We have used different objects to decide which could be put in our bin and which can be put in the recycling box.
Bug Garden
We explored the wildlife garden looking for insects and talked about the difference between the school garden and our Nursery garden. We noticed there were more insects in the school garden around the trees and plants. We spent a lot of time watching some the insects to see what they were doing.
Fun in PE
In PE we have been looking at different shapes, linking this to our maths work. We loved playing with the parachute and stretching and pulling it to change its shape. We also made shapes with each other creating a round circle and a square using straight lines.
Caring for our Pets.
After talking about our own pets at home, we visited the Reception class to look at the Reception stick insects and fish. We talked about visiting the vet if our animals are poorly and how it is important to give them food to keep them strong.
Adam told the class about how he looks after his dog.
"My dog has a lead so he doesn't get hit on the road."
Our School
We had a walk around school to explore some of the different areas and what we might use them for. We read a book in the library and learned that we can borrow books to share in Nursery and at home.
Autumn Garden
We visited the school garden and maze to look for different signs of autumn. On the way to the garden we crossed over the zebra crossing talking about road safety. In the garden we found pinecones to bring back to class to use for counting.
Number Songs
This year in Nursery we are going to learn lots of new songs and rhymes. We have started to learn songs which help us to use numbers and count.
This week we have been practising '5 Little Aliens in a Flying Saucer'. Here are the words so you can sing it with us at home.
Five little men in a flying saucer
Flew round the world one day
They looked left and right but they didn't like the sight
So one man flew away.
Four little men………..
Three little men………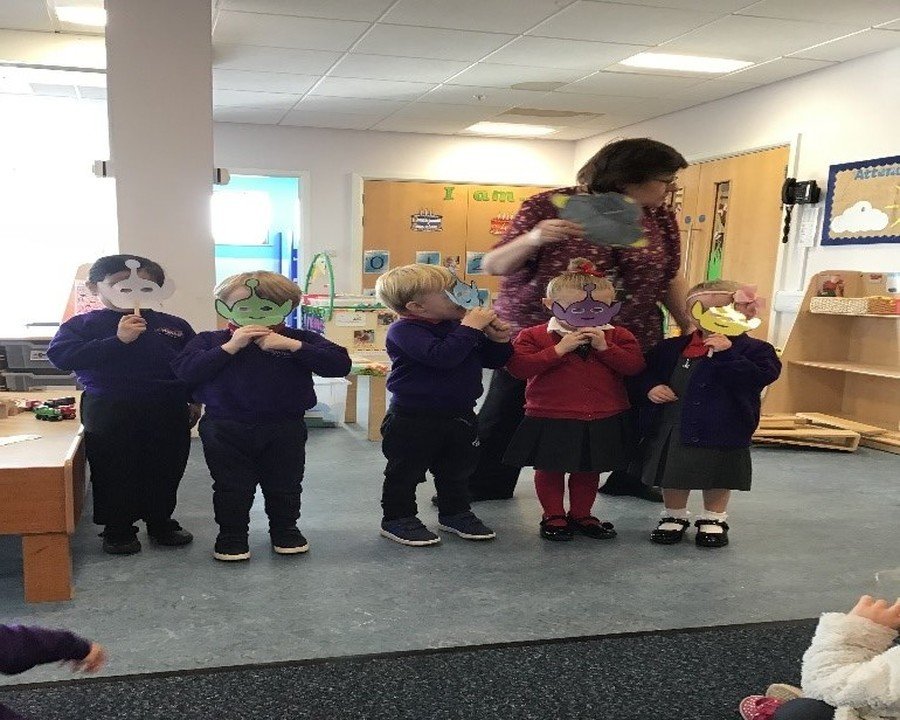 Listening Skills
We have been playing different games to encourage listening. We enjoyed trying to guess which instrument was being played behind Miss Cook's back from a selection in the circle. We played musical instruments slow, fast, quiet and loud when given instructions to music.
All about Shapes
We have been using shapes to make pictures and went on a shape hunt in school. We found many shapes including some windows that are circles!
Balancing
In PE our focus has been on balancing. We have balanced along a beam to jump and land with two feet. We have also been practising this outside on the beam of the sandpit.
New Beginnings
This term we are looking at "Ourselves."
The first few weeks of Nursery we have been looking at our faces and comparing our features and those of others. We have used the classroom mirrors to look at our skin, eyes and hair colour. We then made a collage of our faces using different materials.