Year 1 (classes 5 and 6)
Autumn 19 Gallery
Dragon in School
We found footage of a dragon who had been in our school playground and quickly came up with ideas as to how we could see him again. We decided to make some 'dragon food', using some of the dragon's favourite ingredients and left it overnight and in the morning, it was gone! We wrote a set of instructions about how to make 'dragon food' in case anybody else wanted to know.
We have yet to see him again and we still are unsure as to what he is doing in our playground. We think that he might have lost his knight and so we are writing a 'Wanted' poster in search of the knight.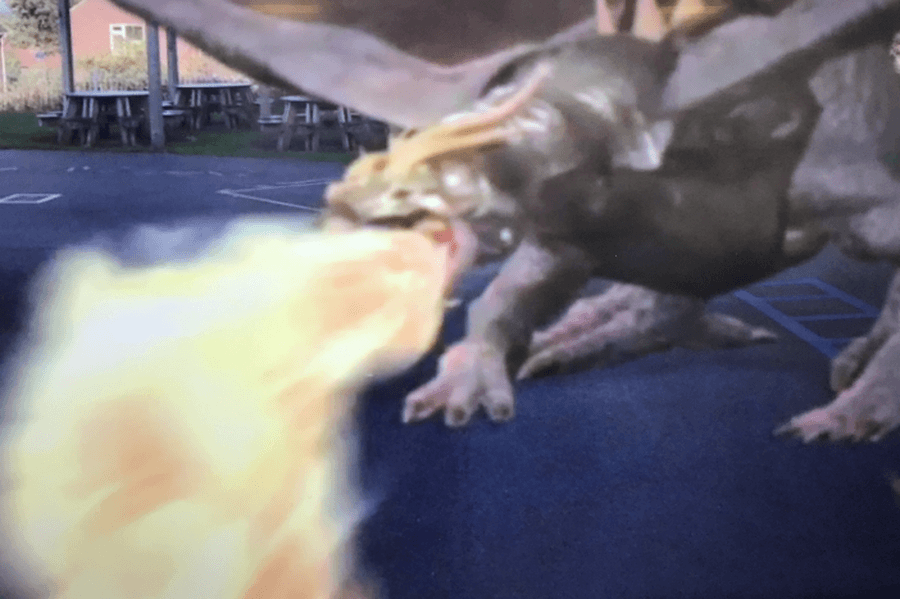 Multi- skills
We had a fantastic morning at the sports centre, practising our multi- skills with children from other schools. We practised our jumping, hopping, skipping, running, throwing and dribbling.

Dragon and Castles Homework
As you all know, we love continuing our learning from school on at home. This is only a few examples of the fantastic homework that we have done so far. Can you guess what they are?
Hylton Castle
We have had such a busy start to Autumn Term 2. As part of our topic, we had the knights from Hylton Castle in to tell us all about what it was like to live in Hylton Castle hundreds of years ago. We even had a banquet where the Lord and Lady and their family sat at the top of the table.
Measuring Madness
In maths, we have gone measuring mad! We found a letter from Dippy the Dragon, asking us to measure different lengths of sticks in our school garden to help him build a den for his family. We have been using words, such as, longer and shorter and longest and shortest.
Remembrance Day
We learned all about why we wear a poppy on Remembrance Day and then decorated our own poppy to make a class poppy wreath. We explored mixing black and white to red paint to change the shade of the colour and used dabs of a cotton bud to paint.
Anti- bullying Week
As part of 'Anti- bullying Week', we wore odd socks. We have also written a recipe as to what makes a good friend, including things such as, helpfulness and kindness.
Our Super Space Ships
We have been busy making space ships by using different materials, such as, plastic cups and paper plates and have used different techniques, such as, painting, cutting, tearing, folding and ripping.
Learning at Home
We have also been doing some fantastic learning at home. We have made different space models using recyclable materials and have made a moon diary by looking at the changes of the moon over a week.
Aliens Love Underpants
In the past two weeks, we have been learning about the story 'Aliens Love Underpants' and so, of course, we collaged our own underpants in art, using the skill of tearing, ripping and cutting.
Playground Games
We have been talking a lot about the importance of how we play in the playground with our friends. Together, we came up with different playground game ideas and practised these together. Maybe you could play some at home!
Into Space
We have loved the start of our time in Year 1 so far and we have been so busy. As part of our 'Space Topic', we have been learning about the story 'Whatever Next'. We have also designed our own rockets to go to the moon and have even made our own astronaut food in a bag so that it wouldn't float if we were in space. In maths, we have been helping the aliens read, write and order numbers.